武田机电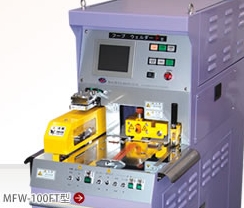 MARUTA自动研磨机, MARUTA研磨机, MARUTA研磨装置, MARUTA熔接机, MARUTA自动溶解装置,MWL研磨机,MWL自动研磨机,MWL手动研磨机,MWL焊机
MARUTA WEDING LABORATORIES CO.,LTD成立于是1984年,日本著名焊机及研磨机制造商,产品有手动研磨机,自动研磨机,焊机及自动溶解装置.产品型号MT-10M MT-11M MT-10RX MT-11RX.
MARUTA WEDING LABORATORIES CO.,LTD The manufacturing and sale of automatic welding devices andTungsten electrode grinding machine.
MURATA's G.T.A (Gas?Tungsten?Arc) Welding Method is the welding with using infinitesimal Plasma Arc formation. So, it is possible to make the process of Butt Welding for ultimate thin plate (more than t0.1mm) of Hoop materials. Until today, it had been very difficult for usual Hoop Welder to weld (butt weld) for connecting the bottom and top of ultimate thin plate. And, today, MURATA developed the mechanism of Butt Welding for end face, therefore, everybody can set easily for the welding operation with high reappearance.
多機種の品揃えででユーザー様のご要望にお応えしている研磨機シリーズの紹介。安全性、便利性を追求したTIG溶接の必需品です。 タングステン研磨機 手動タイプ タングステン研磨機 自動タイプ タングステン研磨機 手動タイプ MT-10M MT-11M MT-10RX MT-11RX
model
MFW-100FT
Dimensions (L×W×H)
460×820×1351mm
Weight
220kg
Primary Voltage
Single Phase 200/220V 20A
Compressor
Loaded on Machine
Rolling Method
Manual
Plate Width for Welding
10~100mm
Welding Thickness
Stainless
0.1~0.3mm
Steel
0.1~0.4mm
Copper
0.1~0.5mm
Brass
0.1~0.5mm
Aluminum
0.1~0.6mm
PRODUCT GUIDE model MFW-100FT Dimensions (L×W×H) 460×820×1351mm Weight 220kg Primary Voltage Single Phase 200/220V 20A Compressor Loaded on Machine Rolling Method Manual Plate Width for Welding 10~100mm Welding Thickness Stainless 0.1~0.3mm Steel 0.1~0.4mm Copper 0.1~0.5mm Brass 0.1~0.5mm Aluminum 0.1~0.6mm
● Specification

Model

MT-10M

 

MT-10M

Power Supply

AC100/110V 50/60Hz

Grinding Material

Borazon

Power Rating

60/70W

Grain Size

?170

Thermostat

Rated 5 minutes
75 ℃±5 ℃

Wheel Outer Diameter

φ60mm

Power Cable Length

Flat Vinyl Cable/Code 1.8M

Grinding Method

Manual

Electrode Diameter

φ1.0, 1.2, 1.6, 2.0, 2.4 & 3.2mm

External Dimensions

W100xH125xD185mm

Electrode Length

More than 45mm

Net Weight

1.5kg

Grinding Angle

5 °~ 60 °
(Wheel Boss Angle 120 °)
 
MARUTA自动研磨机, MARUTA研磨机, MARUTA研磨装置, MARUTA熔接机, MARUTA自动溶解装置,MWL研磨机,MWL自动研磨机,MWL手动研磨机,MWL焊机
上海武田机电公司,是专业的欧美及日韩进口工业产品提供商。在欧洲,美国,日本及韩国拥有良好的渠道与深厚的关系,代理及经营多种品牌工业产品,欢迎选购。