武田机电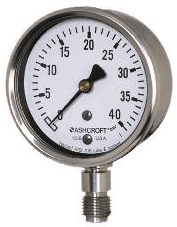 Ashcroft压力表,Aschcroft传感器,Aschcroft温度计,Aschcroft开关.
150多年前,爱德华.雅斯科在美国创建了Ashcroft公司。 随着当时日益更新的工业发展, 企业的生产过程中需要很多更安全,更持久的压力、温度仪表仪器,于是他发明了划时代的新型管状压力仪器并将这项技术加以普及,历史便由此拉开序幕。 随着时间的推移,世界工业发展需求的不断变化,Ashcroft公司成为全球仪器仪表行业的领先者,它的产品包括:工业压力计量仪器仪表、工业特种温度计量仪器、工业压力控制器、工业温度控制器、工业传感器、压力温度数据记录仪器以及其他与现场指示,安全生产和流程自动化控制密切相关的工业产品。我们的生产和服务基地分布在世界各地,除了中国之外,还包括美国,德国,巴西,墨西哥,沙特阿拉伯,以及新加坡等国家和地区。 在市场的强劲需求下,公司的产品被细分成为很多世界工业界的著名品牌,例如 Ashcroft?, Heise?, Willy? 以及 Weksler?。在石油化工领域、电力领域、废水处理领域、制药领域、半导体领域、食物加工及工业管道输送领域, 您可以随时随地发现以上品牌的身影,以及我们竭诚服务的踪迹。 作为业界的领先者,我们始终在技术和创新方面来为我们的顾客设计符合要求的产品,并一如继往的为我们的顾客提供不断更新的,安全可靠的压力、温度产品和更高的产品性价比。
Ashcroft弹簧管压力表,Ashcroft波纹管压力表符合美国标准(ASME B40) ,用于流程工业或一般工业 流程工业压力表, 精度符合Grade 2A Duragauge 压力表 型号 1279, 1377, 1379, 2462 表盘尺寸 4?", 6" 或8?" 精度0.5% (ASME Grade 2A) 量程-1至7000 bar 带有隔爆前面板坚固的安全外壳, 干式或充油耐震 酚醛,铝合金或聚丙烯外壳 接液材质提供铜合金,316L不锈钢和蒙乃尔Monel 技术参数 English 流程工业压力表, 精度符合Grade 2A 压力表 型号 1259 表盘尺寸4?" 精度0,5% (ASME Grade 2A) 量程-1至2000 bar 带有隔爆前面板坚固的安全外壳, 干式或充油耐震 聚丙烯外壳 接液材质提供316L不锈钢和蒙乃尔Monel 技术参数 English 弹簧管压力表, 精度符合Grade B 不锈钢压力表 型号1008 表盘尺寸40 mm, 50 mm, 63 mm 精度3-2-3% (ASME Grade B), 可选 Class 1,6 用于 63 mm 和 100 mm 量程 -1至1000 bar 干式或充油耐震 接液材质提供铜合金,316L不锈钢 技术参数 English 弹簧管压力表, 精度符合Grade 1A 不锈钢压力表 型号 1009 和1320 表盘尺寸 2?" 至 6" 精度 1% (ASME Grade A), 可选 0,5% 量程 -1 至1600 bar Ashcroft干式或充油耐震 接液材质提供铜合金,316L不锈钢和蒙乃尔Monel 技术参数 English 弹簧管压力表, 精度符合Grade 1A 不锈钢压力表 型号1109 表盘尺寸4?" 精度1% (ASME Grade A) 量程 -1 至7000 bar 带有隔爆前面板坚固的安全外壳, 干式或充油耐震 不锈钢外壳 接液材质提供316L不锈钢和Inconel不锈钢 技术参数 English Ashcroft波纹管微压压力表, 精度符合Grade A 型号1187, 1188 和 1189 表盘尺寸4?", 6" 或 8?" 精度 2-1-2% (ASME Grade A) 量程-25 ... 0至0 ... 600 mbar 带有隔爆前面板坚固的安全外壳 酚醛,铝合金或聚丙烯外壳 接液材质提供铜合金,316L不锈钢和蒙乃尔Monel 技术参数 English
Ashcroft? transducers/transmitters, pressure and temperature switches, thermometers, test equipment, and extensive variety of pressure gauges are manufactured in ISO 9001 certified facilities. Industrial and commercial pressure gauges in sizes from less than 1" to 12" in pressure ranges up to 100,000 psi. In pressure gauges the award-winning PLUS! option solves the problems of vibration and pulsation in your applications. A patent-pending technology, the PLUS! option provides the same performance of a liquid-filled gauge in a dry Ashcroft gauge. It significantly increases the life of a dry gauge by 50%. Ashcroft pressure transducers and transmitters cover four types of pressure measurement: gage, sealed, absolute and compound. Ranging from low-to-high pressure, our transducer technology measure ranges from 0.05 inches H2O to 150,000 psi with accuracies of 0.02%, 0.25%, 0.50% and 1%. Ashcroft pressure and temperature switches are used in numerous applications for control, alarm and shutdown.
Stainless Steel Never Looked so Good... ...or so Affordable! The newly redesigned Type 1008S stainless steel pressure gauge offers a stainless steel case and wetted parts to stand up to the toughest applications. Two sizes, several mounting configurations and ranges from vacuum through 15,000 psi make it the easy choice for harsh environments or media. New Test Lab Facility at Ashcroft Inc. World Headquarters We've completed a new product test center, outfitted with specialized test equipment to simulate weather, vibration, extreme temperatures and more. Read more about our expanded capabilities and how we can use them to help you… Familiar Transmitters with New Names... We are happy to announce the reintroduction of the Ashcroft? heavy industrial pressure transmitter. Previously designated type A2, the heavy industrial transmitter product series has been divided into three distinct model types for easier selection. The standard configuration will remain A2, while the explosion proof version will assume the designation A2X. The non-incendive "intrinsically safe" design will now become the type A4. For specifications, please click on the blue links to visit the unique product page for each model type. Innovative Panel Mount Design Ashcroft? Type 1005P general purpose utility gauges are now available with a unique panel mount conversion kit; simply snap the gauge into the panel mounting sleeve and fasten it to the panel with the bracket provided. This unique economical design facilitates easy installation and quick change-out. All the Best Features, Right at Your Fingertips! Ashcroft's new pressure transmitters feature a digital display for local indication and a user "turndown" capability for re-ranging. Two ultra-compact configurations are now available: GC51 Gauge and compound ranges to 7500 psi GC52 Wet-wet D/P with ranges from 0/4 to 0/400 Inches W.C. and bi-directional ranges. Industry's Best Selection in Process Gauges Ashcroft? 1200 series pressure gauges offer specific capabilities for nearly every type of process. In basic applications, the rugged Ashcroft? Type 1259 is the economical choice for years of dependable service. In more rigorous installations, the Type 1279 Duragauge? pressure gauge takes-on harsh pressure media, fire hazard or extreme cycle volumes. Add pulsation and vibration, and the Type 1279 Duragauge? PLUS! pressure gauge offers patented technology to dampen pointer flutter without the need for liquid fill. New Wet-Wet D/P Transducer for HVAC The new Ashcroft? GC55 wet-wet differential pressure transducer monitors high differential pressures through 300 psid in HVAC hydronic cooling and heating systems and pump controls.