武田机电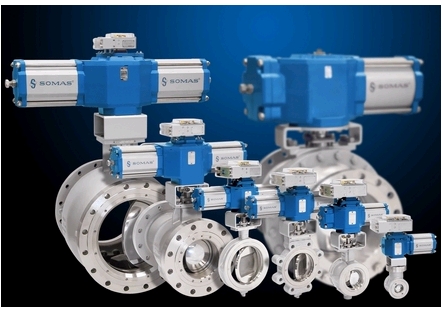 SOMAS产品有SOMAS蝶阀,球阀,控制阀,阀门执行器等产品系列,产品广泛地使用造纸领域等行业.
SOMAS Instrument AB develops, produces and markets control- and on/off-valves from high-grade, acid-proof stainless steel.
Paper and Marine Industries Butterfly valves, ball segment valves and ball valves. All are used in one way or the other in the pulp and paper industry and the shipping and ship building industry. These are the industries to which SOMAS supplies most valves. Valves for loading/unloading cargoes and valves to regulate the flow in paper machines. All custom adapted to the customers needs.
Ball segment valves Butterfly valves Ball valves Check valves Actuators Accessories Control valves On/off valves Manual valves Cargo valves Cryogenic valves Exhaust valves Basis weight valves Software Product approvals
SOMAS has developed and manufactured valves for more than 60 years. Flexible design, stainless materials an a wide range of dimensions are the pillars of our product line. Our close co-operation with our customers enables us to continue to improve our product line and to gain valuable experience from many industrial applications . This is the key to the continuing development of our valves, actuators and accessories. Our product line offers a complete solution, suitable for many industrial applications such as Paper & Pulp, Chemical, Energy, Shipbuilding, Offshore, pharmaceutical , Sugar and Biofuel. Would you like to know more about our products? Please, take a look in our valve guide (pdf, 530 kB) BALL SEGMENT VALVE SOMAS ball segment valves are the optimal solution for the process industry. Easy to maintain as well as high adjustment capability make the valves perfect for many applications. Read more about SOMAS ball segment valves BUTTERFLY VALVE SOMAS butterfly valves is the maintaince free and cost effective alternative with a unique seat and construction. Suitable choice for industry as both control valves and on/off valves. Read more about SOMAS butterfly valves BALL VALVE SOMAS ball valves are mainly intended as an on/off valve with valve seats for best possible tightness. With its real ball even on the largest sizes, the valve keeps its low differential pressure. Read more about SOMAS ball valves ACTUATORS SOMAS actuators are custom designed for control applications with solutions for eliminating backlash between valve avnd actuator. The actuators are made by aluminium to minimize vibrations. Read more about SOMAS actuators